Home » Related News » ISDE Training Helps Harris Corp. Strengthen Its Engineers' Design Skills
News
ISDE Training Helps Harris Corp. Strengthen Its Engineers' Design Skills
Posted by Jeff Kauppila on Thursday, January 23, 2020 in Related News.
Faculty members and researchers in Vanderbilt University's Institute for Space and Defense Electronics provided training for about 20 Space and Intelligent Systems engineers June 26-27, 2019, thanks to an agreement between Harris Corporation and the university.
Training on single event effects, or SEEs, was held at the Harris Technology Center in Palm Bay, Florida, and available via Skype as part of the segments' Knowledge Transfer initiative, Survivability University. SEE occurs when single atomic-level energetic particles strike an object, causing errors or, in worse cases, product failures.
Four ISDE researchers presented detailed information on the effects of SEE radiation on electronic devices and systems to SIS employees who work on space survivability issues. They were Jeff Kauppila, research assistant professor of electrical engineering; Bharat Bhuva, professor of electrical engineering  and computer engineering; Kevin Warren, ISDE research engineer; and Kenneth F. Galloway, Distinguished Professor of Engineering and  Dean of Engineering, Emeritus.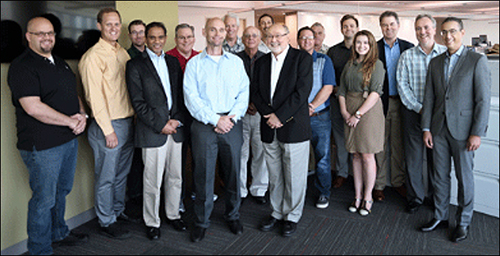 "Today's spacecraft are designed to reduce power, weight, volume and cost with compressed schedules, while incorporating increased functionality and emerging commercial technologies," said Frank Fieldson, director of SIS Specialty Engineering. "As we continue to develop systems to meet customers' evolving needs, it is critical that we understand, model and mitigate the effects of space environments on these systems. SEE training will help our engineers do their jobs for effectively and efficiently."
ISDE is a unique world-class training source for the design and analysis of radiation-hardened electronics. ISDE researchers develop test methods and plans for ensuring radiation hardness and solutions to system-specific problems. They also conduct research to meet microelectronic design and reliability need through physical circuit modeling, design, testing and analysis.
"We were extremely fortunate to host this cutting-edge training for our engineers," Fieldson said. "Thanks to Vanderbilt for lending us their expertise."
Harris Corporation is an American technology company, defense contractor and information technology services provider that produces wireless equipment, tactical radios, electronic systems, night vision equipment and both terrestrial and space-borne antennas for use in the government, defense and commercial sectors
Tags: Bhuva, Galloway, ISDE, Kauppila, Warren
---
---